VIENNA - PARIS - NEW YORK
We hope you enjoy our top recommendations for where to stay, where to eat and what to do in three of our favourite cities to visit in the lead up to Christmas. Vienna, Paris and New York are enchanting in the festive season, when the lights have gone up, markets are overflowing with hot gluwein and the streets are abuzz with Christmas cheer.
NEW YORK
"THERE IS SOMETHING IN NEW YORK AIR THAT MAKES SLEEP USELESS." - SIMONE DE BEAUVOIR
STAY: The grandest place to stay in New York City, The Carlyle has housed Royalty, heads of state and celebrities aplenty. And, as to be expected from a Rosewood Hotel, it is run with slick confidence and exceptional service, offering a glamorous sojourn for those looking to travel in style. After a dazzling $25 million refurb, The Lowell reflects the timeless elegance of the Upper East Side. Your luxury home from home is befit with gorgeously appointed suites with wood-burning fires and sweeping Manhattan views. Enjoy Martinis at Jacques Bar & digestifs in the atmospheric Club House. The Mark is a firm favourite of mine and quite unlike anywhere else, boasting the most luxurious Penthouse in the city. It's perfect for design lovers and offers one of the most exciting dining experiences in the city at The Mark Restaurant by Michelin starred Chef Jean-Georges Vongerichten. Or downtown, stay at The Mercer, a luxury hotel in SoHo with a wonderful homely atmosphere and seriously stylish clientele. The Mercer Kitchen is its pièce de résistance, serving French cuisine with Asian influence by world-renowned Chef Jean Georges Vongerichten.
EAT: New York is one of the most exciting culinary destinations in the world, there is so much choice, incredibly innovative chefs and some wonderful restaurant experiences where atmosphere and service can't be matched. I always recommend lunch at Cosme, our favourite Mexican restaurant, where the margaritas are out of this world. Food is locally sourced and served as sharing plates. If you're trying to squeeze in dinner before a Broadway show, grab a bite at Gramercy Tavern; a really classic NYC restaurant with a delicious menu. Dinner at Le Bernardin is one of the finest dining experiences in the city by Eric Ripert - a French seafood restaurant boasting three well-deserved Michelin stars. Le Mercerie (chef Marie-Aude Rose - French fare at its most stylish) and La Goulue (traditional French cuisine and a great location on the Upper East Side) are two other favourites. Even if you're not staying at The Carlyle, an evening at it's renowned jazz bar adorned with Bemelmans murals is a must. The Carlyle hosts recitals from the world's top musicians and often arranges private piano recitals just for guests. There's something fabulous and flamboyant about 'cocktails at The Carlyle' - go for the classic Martini!
DO: Ice skating in Central Park always feels magical, even if a little cheesy! Skating is also really fun at the Rockerfeller Centre by the huge Christmas tree, but it can be a bit tight amongst the crowds. To feel really cheesy on an NYC break over the holidays, go to Radio City Hall to the Rockettes Christmas dance show. In the lead up to Christmas the window displays throughout the city are incredible - check out Bergdorf Goodman (wonderful shopping for high-end designer clothing and homewear), and Saks Fifth Avenue. Tiffany & Co is so beautiful that it's worth visiting the store alone even if you're not planning on buying anything - at Christmas it's a particularly magical and sparkling spot in NYC. I recommend crisp morning strolls around Flatiron, home to Madison Square Gardens and ABC Home, where you'll find just about everything from home-wear to exquisite clothing, beauty products and jewellery. J Crew, Calypso, Diane Von Furstenburg and Paige are just a few of our top recommendations for shopping. Over the festive period there is a magnificent culture calendar of gallery exhibitions, shows and concerts to enjoy - get in touch with our team to find out more...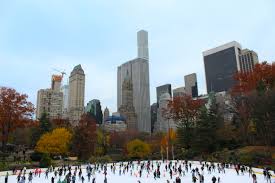 VIENNA
"DREAM ON, BUT DON'T IMAGINE THEY'LL ALL COME TRUE... WHEN WILL YOU REALISE, VIENNA WAITS FOR YOU." - BILLY JOEL
STAY: Hotel Sacher Wien has been one of the most glamorous addresses in Vienna since its opening in 1876 - it is a part of the city's history and culture and one of the most luxurious and beautiful hotels to stay over a special weekend exploring the city. Fine dining in one of four incredible restaurants, renowned for their oppulent interiors, bold and plush colours, and dishes that are a work of art. Take a pause from shopping for some relaxation in the Sacher Boutique Spa - a welcome retreat from the cold winter air. The elegance of the rooms and suites reflects the heritage and tradition of this historic Viennese hotel. For a Christmas treat, the palatial Madame Butterfly Suite with a 360' view of Vienna is magnificent, fitted with a fireplace, dining area and stunning original artwork. I love the location of 5-star hotel, The Park Hyatt Vienna, in the heart of the old city. Dinner at The Bank (in an old cashier hall of the former bank within which the hotel resides) amidst marble collums, stain glass windows and crystal chandeliers is a must during a stay. Spacious rooms and suites are beautifully decorated with sumptuous furnishings, and the King beds are heavenly; so comfortable. Italian marble, wood-pannelling, marble bathrooms, and rooms with large windows taking in the baroque façades on Am Hof Square. Make the most of the wonderful concierge service for tickets - opera is a must in Vienna. Walking into Arany Spa is like walking through the pearly gates into heaven - the setting is adorned with mother-of-pearl, gold and marble and the most relaxing treatments come in the form of mineral stone massages with essential oils. A swim in the indoor pool is also the perfect treat after a busy day in the city.
EAT: There are a number of high-end restaurants across the city serving a variety of cuisines - get in touch with our team to make reservations. Vienna's Spittelberg Quarter is well worth a visit - it's super trendy, with a great atmosphere, charming, beautifully lit courtyards and plenty of cafes and restaurants to pop into for pick-me-up coffees whilst Christmas shopping. Coffee is quite the ritual in Vienna, usually served with cake in the afternoons. Spittelberg Quarter also has one of the best Christmas markets in Vienna (although there are so many to choose from), with huddles of little kiosks to selling gluhwein and endless traditional sweets and goodies to take back home. A must-visit is Naschmarkt, where you're spoilt for choice with a mile-long market of food stalls. Cafe Central is one of the most celebrated restaurants in Vienna; a beautiful grand building with stunning vaulted ceilings and a history of famous clientele - it's quite the experience and the pastries are unbeatable. For another incredible setting, try the Palmenhaus brasserie, set within an indoor botanical garden. The detail and design of the glass ceiling is sublime - great for lunch or a glass of wine in the evening. Be sure to taste traditional local dishes, such as Schnitzel, Strudel and Sachertorte!
DO: Vienna is one of Europe's most glamorous cities with dazzlingly grand architecture. Vienna's long-lasting reputation as one of Europe's most important cultural hubs makes it the perfect city break to please all ages. The cultural calendar is attractive year-round, but over the Christmas period there tends to be an exciting schedule as the city's top galleries, museums and theatres boast incredible seasonal exhibitions and events. If you visit just one museum, the Kunsthistorisches Museum is splendid for a morning to see masterpieces by Carravaggio, Rembrandt and Rubens amongst others. One of the most magical experiences in Vienna, particularly at Christmas time, is a traditional evening at the opera. Get in touch with our team to plan your visit. The Goldenes Quartier, a UNESCO World Cultural Heritage Site and one of the oldest parts of Vienna, is perfect for exploring on foot. This area is home to beautiful historic buildings and a number of fabulous boutique shops - perfect for picking up special Christmas presents. Be sure to visit the 13th Century Hofburg Imperial Palace to learn about its extraordinary history at the heart of Austrian politics through the ages.
St Stephen's Cathedral is another spectacular site - its gothic style is absolutely breathtaking to behold. In the lead up to Christmas, countless traditional markets pop up all over the city, selling typical foods and drinks, hand-carved decorations and everything from hats to bags and jewellery. The market in front of the Rathaus is wonderful, although perhaps one of the busier ones in the city with high prices. A number of markets feature fairground rides, games and shows especially for children. The Karlsplatz market is particularly recommendable for arts and crafts, and the stalls in the forecourt of Schönbrunn Palace around its giant Christmas tree are well worth a visit.
PARIS
"WE'LL ALWAYS HAVE PARIS." - RICK BLAINE, CASABLANCA
STAY: Stay at Le Bristol, one of the most fashionable addresses in Paris within waking distance of many of the city's most distinguished boutique shops. Le Bristol is luxurious and sophisticated, offering an experience of old-world Paris that is rare to find. Guests enjoy butler service, the most comfortable, spacious bedrooms featuring delicate Louis XV/XVI furniture and beautiful artwork, a rooftop pool and spa, and the hotel is celebrated for its 4 Michelin stars. The setting is even more magical at Christmas, with the courtyard transformed into an enchanted pine tree forest, twinkling with fairy lights, and every doorway dressed with handmade wreaths sewn with deep red ribbons. The festive menu is absolutely delicious and one of the most sensational fine-dining experiences in the city. Four Seasons Hotel George V is so gorgeous (an iconic art-deco landmark) and such a spoiling place to stay, as well as being ideally located just off the bustle of the Champs Elysees. Guests enjoy palatial suites with Eiffel Tower views, a beautiful spa with hammam and swimming pool, and three incredible restaurants with five Michelin stars between them. Le Cinq, with its dazzling chandeliers, internal palm trees and exquisite marble interiors offers a wonderful, classic atmosphere and gastronomic excellence. I love the George V bar most for drinks at Christmas. Hotel Lutetia, in the buzzing quartier of Saint-Germain-des-Prés, is a grand hotel with innate Parisian style. The Lutetia Brasserie offers a wonderful dining experience by three Michelin starred chef, Gerald Passedat. Hotel Lutetia is also perfect if you're looking to balance your city-break with some relaxing downtime at the Akasha Holistic Wellbeing Centre and stunning swimming pool.
EAT: I go to Paris a few times a year - it's always held a piece of my heart - and whilst I try to experience a new restaurant on every trip, I certainly have my list of firm favourites that I'll always return to. Restaurant Atelier of Joel Robuchon is wonderful for dinner, as is Chez Andre for a classic French brasserie experience. One of my favourites brasseries has to be La Brasserie de l'Isle Saint Louis for its beautiful setting next to Notre Dame and overlooking the Seine. The Beef Club is one of my favourite restaurants – you'd be hard pressed to find a better steak in the city. In winter I always make time for a post-shopping white hot chocolate break at beautiful Café Angelina on Rue de Rivoli (be prepared to queue) – the interiors are stunning. Or if you're in Le Marais, head to Le Loire dans la Theiere, serving the best moelleux au chocolat, and then wander the little antique stores and independent shops in the surrounding streets. If visiting the Musee d'Orsay (which I highly recommend if it's your first visit to this sensational city), enjoy lunch or a coffee in Café Constant. For somewhere a little chi-chi but fun and allowing you to experience Paris at its most fabulous, Le Jules Verne in the Eiffel Tower is quite the experience with spectacular views. If staying at Le Bristol, be sure to slink off to The bar at Le Bristol to experience 'Le Bristol After Dark' (B.A.D. evenings), where a set of fabulous Parisians and sophisticated travellers gather to enjoy original cocktails, cool music and a buzzing atmosphere within a gorgeous oak-panelled bar, relaxing on plush velvet sofas around a marble fireplace.
DO: Board a 2-hour train from London and you're in the heart of Europe's most romantic city – for a city-break, travelling to Paris couldn't be easier. There are so many lovely things to do in this enchanting, cultural city, and it's wonderful to explore by foot; gazing across wide avenues, up to romantic balconies, taking in beautiful, intricate architecture, surrounded by historical buildings and monuments. I love strolling down the Champs Elysees, Joe Dassin's famous tune in my head, popping in and out of designer shops and breaking up my day with peaceful pauses in archetypal Parisian cafes, people watching and indulging in delicious patisserie treats.
Strolling along the Seine, I can't help but stop and buy small works from street-artists sketching typical Paris scenes, whatever the weather, and you'll always pass little make-shift book stalls which are worth a skim, you never know what you might find. Wander through the Marais to pop into little antique stores and independent shops, and if you're a fan of a market, venture to the biggest flea market in the world: Marché aux Puces de St-Ouen. Paris's art galleries are the envy of Europe. The Louvre is unmissable, and afterwards, wander down the road to the Christian Louboutin atelier and By Terry shop, both in an arcade. The Degas exhibition in the Musee D'Orsay is my favourite. Get in touch with our team to plan your gallery and museum visits and we'll advise you based on the current exhibitions. .
If you're looking to take in the very best of these cities, with some of our top little secrets thrown in, give me a call to start planning your trip...
CALL OUR TEAM TO BOOK YOUR CITY BREAK >
CHRISTMAS GIFTS FOR TRAVEL LOVERS >